Ahhh.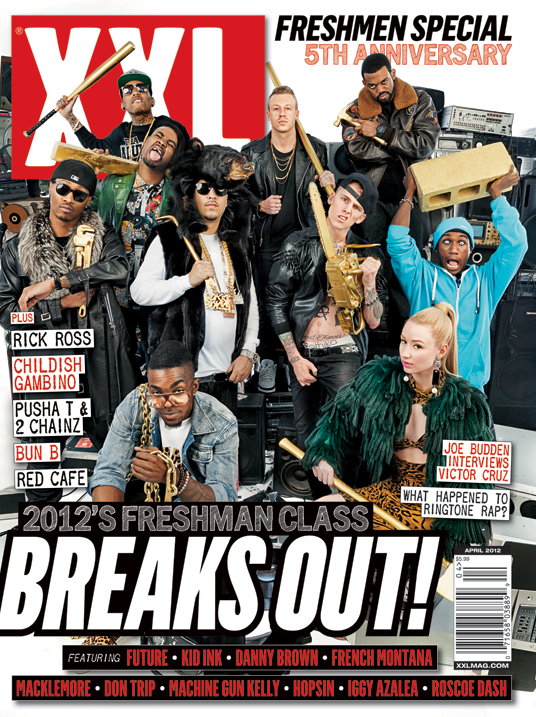 Here's XXL's 2012 Freshman Class list and it pretty much tells me XXL has no idea what their doing.
MACHINE GUN KELLY
"Wild Boy" is decent, but his last mixzip wasn't even replay worthy. He does have a following of crazy white kids, "Wild Boy" video is over 12 million views. But views don't mean shit, I want great music.
DANNY BROWN
Once I got over his haircut, he's actually not bad. Though he's not great either. And I'm pretty sure he has no fans.
KID INK
Isn't this Tyga's lackluster clone? His mixzip was ass and a half, and normally you would think that sounds amazing, in this case it isn't. Plus his biggest song is called "Tuna Roll". Maybe because he sounds like a rappin' Chris Brown that he made it?
FUTURE
I'll admit I'm a Future fan, he's just so brilliantly ignorant and whoever mixes his stuff is either retarded or a genius.
ROSCOE DASH
He does his thing on hooks, but seriously as someone to look for from a hip hop rag makes no sense. Let's not even mention, he's had like one and half hits.
HOPSIN
I've heard this guy's stuff before, he's got a "late 90s skater LA hipster Dr.Dre Eminem Tyler the Creator" vibe going on. This is not for me.
MACKLEMORE
I almost forgot about this guy and then realized I posted about him last August. Surprising to see he made the list, I thought he was going to be one of those artist that drops a great video/song and then disappear. Props to him.
DON TRIP
Aside from that I never post anything from Don Trip, I actually do think he's better than XV, Dom Kennedy, Action Bronson, Casey Veggies, Emilio Rojas and Laws (you know the blog rappers). I seen 9th all mad that the blog rappers didn't make it, but I think XXL is right in just choosing one of them, as they are all interchangeable. Nonetheless, I hope one of them has a big year.
Bonus: I think Schoolboy Q has had a good year, but I think he didn't make the list cause his buzz went up in the last few months and this list was made four months ago. Timing is everything.
IGGY AZALEA
A white Australian female rapper who raps about pussy. Not sure why Kreayshawn didn't make it, but I would have rather seen Azealia Banks make the "Whose the next Nicki?" category.
FRENCH MONTANA
I can't be mad Frenchie made the list, he's been doing it for a minute, since 2006, if I recall correctly. "Shot caller" was huge for him and is probably the reason my girl is expecting soon. Apparently, Rick Ross is executive producing his album so Frenchie could position himself as an heir to the over-the-top-gangster-commercial-rap genre. Though Drake seems to be jockeying for position.