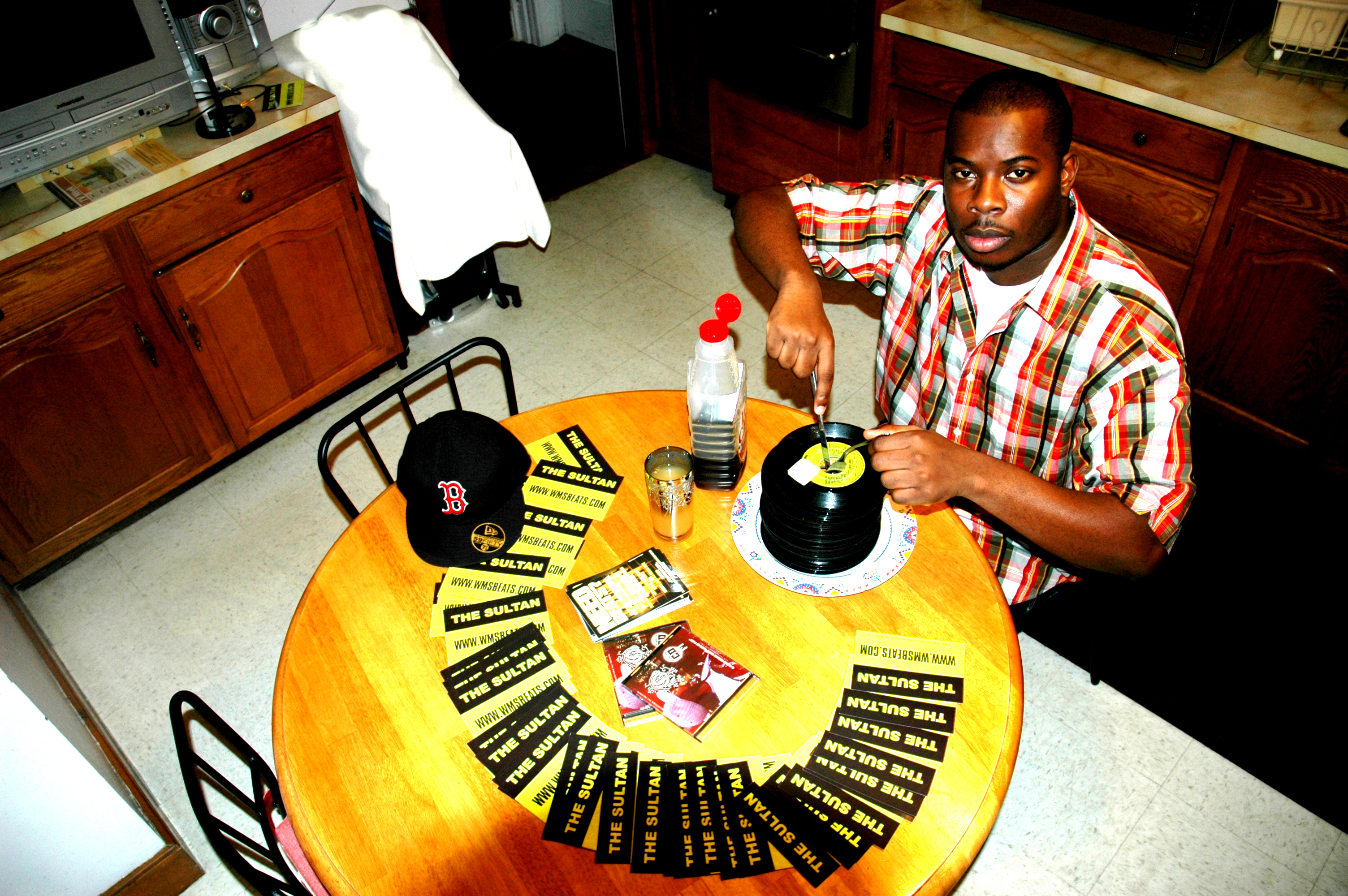 My have we come a far way. I remember only yesterday I was posting about how YoRapper is going to takeover the online hip hop world [sidebar: wait was that yesterday?]. Speaking of people taking over, ya boy got to sit down and kick it with up and coming producer WMS The Sultan who is also in the mood to take over this rap shit. Now don't you dare say "who?" Cause this is the dude largely responsible for some of the heaters on this years best album, Joe Budden's Mood Muzik 3. Having produced the infamous Jigga jab Talk 2 Em, the heartfelt Dear Diary, and the heaters 5th Gear and Roll Call, WMS The Sultan is becoming the go to guy for those dirty NY bangers with the serials scratched off.
YoRapper.com: Tell the folks about how you got into producing? And how you got your name WMS The Sultan.
WMS The Sultan: I started producing about 5 years ago. I have always been a fan of music, from Nas to Miles Davis to Biggie, to Enya. Before I started producing I always listened for the beats on songs and would read the credits and see who was on what tracks. As far as making beats myself it started off as a hobby. I had a software program where you could just loop stuff up. After a while I started researching more on production because I wanted to make some original tracks of my own. At the time I was just a fan and didn't know too much about the production end except that the beats a lot of times were my favorite parts of most songs.
My first 2 years of producing I was doing all beats with no samples, at the time I didn't know the first thing about sampling or chopping up stuff etc. Then I got introduced to sampling and went in heavy on that side of the production, I think that helped me develop a real versatile sound over the years. I have worked on perfecting both styles of production and I am moving towards live instrumentation now.
WMS are my initials so that's where that part came from. Sultan is my real name. An artist I was working with at the time years back said I'm gonna call you the Sultan so I stuck with it. So when you hear that WMSsssss sound on the intro of a track you know your about to hear some heat from The Sultan.

YoRapper.com: What equipment do you use? How do you feel about computer based beat making using FL Studio and Reason?
WMS The Sultan: Equipment wise I use an, Rnc compressor, Motif rack, Bass guitar, Midi controller, Cakewalk sonar, Soundforge.
I mean as far as computer based beat making or hardware based mpc, asr 10 etc. I say use whatever works for you. I have heard tracks that were made with reason that were dope and some that were whack same goes with FL, mpc, etc. Just use what you are comfortable with and master it.
YoRapper.com: How would you describe your production style?
Hard hitting, high energy and versatile. Most my tracks are hard hitting even the r&b joints, the drums and bass is going to be knocking. I can do tracks with samples, no samples, rap, r&b, reggae, I even produced an album for a poet (Azizi The Poet) so I have a wide range of sounds.
YoRapper.com: Who have you worked with that we may know?
WMS The Sultan: I have done production for; Joe Budden (Mood Muzik 3), Skyzoo, Edo G, Drag-On, Akrobatik, Ripshop.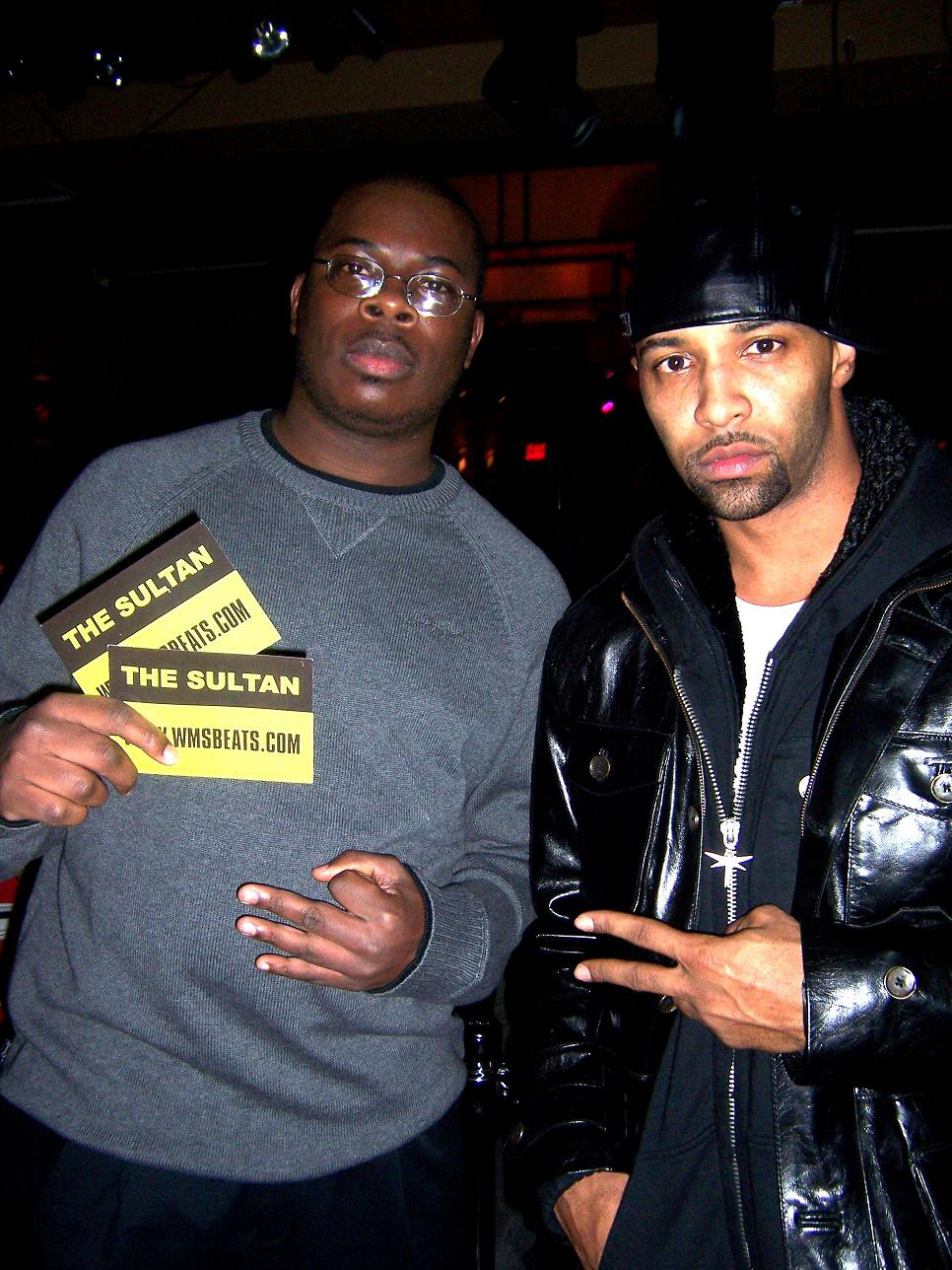 YoRapper.com: Speaking of Joey, What was it like working with Joe Budden?
WMS The Sultan: Coming in the game as a young upcoming producer when given the platform to shine you want to make sure it's the right situation. Being a part of such a quality work of art as Mood Muzik 3 and making music with such a hard working and talented artist as Joe Budden, I can't ask for more. This was the perfect launch to get my sound out and name out on a national level. A lot of people come in the game on a gimmick or through publicity stunts etc. and are gone the next year. I think coming in through good music solidifies my talent and will have people checking for me.
YoRapper.com: Were you present while he recorded?
WMS The Sultan: I didn't get a chance to come through for the session but, I would send over ideas with the tracks. Killah BH and I would talk about production ideas just stuff that would fit the style of the entire body of work. I got a chance to meet Joe at the private listening party in November, real cool down to earth dude. The whole thing was just about making good music, I didn't have to deal with any politics or anything like that.
YoRapper.com: This is probably a no brainier, but when you heard the finished songs what was your reaction?
WMS The Sultan: 1st joint I heard was Dear Diary, I was like wow like damn. That track is deep he really opened up on that one. I heard the Roll Call joint in the club that song came out crazy he matched the energy of the beat perfectly.
YoRapper.com: Which is your favorite song on MM3 out of the ones you produced and why? And which one is your favorite out of the songs you didn't produce and why?
WMS The Sultan: Out of the songs I produced my favorite is Talk To Em. One word "wow" depending how that situation goes that one right there might be history in the making. That joint is hardbody the bars were crazzzzy on it.
Out of the ones I didn't produce I keep going back and forth the whole cd is so dope. Right now I would say Family Reunion and the joint with Joel Ortiz.
YoRapper.com: 5th Gear is one of my favorite joints on the album, in the YoRapper review, we had this to say about it,
"This is like the Batman Dark Knight version of "Dumb Out". You can just picture Joey riding in the batmo through Gotham on this joint. The beat combines futuristic synth sounds with classical strings that allow Joe B to get really busy. Lil Wayne who?"
Agree? Disagree?
WMS The Sultan: I agree, you all said it best and painted that picture perfectly. Side note I didn't produce 5th gear, not sure if it was corrected in time for the finally pressing of the cd. Shout out to whoever did that beat its fire. That one might be a mystery of MM3 forever ……….
YoRapper.com: Haha. Ok if you don't take credit for that beat, I will. 5th Gear produced by YoRapper, Budden cut the cheque! So will you be working with Mr. Budden in the future?
WMS The Sultan: I think we will be working together in the future, we both have a good work ethic and make a good combination. I sent 150+ beats over for the mixtape. I am sending him more beats and song ideas for the next project, I probably sent 125+ beats for that. I am literally sending over tracks almost daily.
YoRapper.com: Do you know anything about Joe Budden's label situation?
WMS The Sultan: No.
YoRapper.com: What are you currently working on? Do you have a production deal?
WMS The Sultan: I am currently finishing up production on the remix of Static and Messiah Single Keep Wishing you can look out for the remix to the lead Single Keep Wishing Static and Messiah Feat Leanne and Skyzoo in early January dudes are gonna flip when they hear the beat on it.
I am about to drop my mixtape early 08 "THE SULTAN MIXTAPE VOL 1 BY ANY MEANS NESSCARRY" which features Skyzoo, Edo G, Akrobatik and more. I am doing full production for the cd so if you like my production on Mood Muzik 3 you will love the production on this cd. The beats on it are crazy even the skits/interludes got some dope beats and samples. I might drop an instrumental version of it in Winter 08.
YoRapper.com: Many young/unknown producers who work with big artist (i.e. Fifty) make a few hits with them and then are never heard from again. How are you going to avoid a similar fate?
WMS The Sultan: The way I operate is real different then other producers. I don't operate with a producer's mind state, I treat my movement like a corporation.
Prior to the Joe Budden joints I was awarded beatmaker of the year in the 2006 MIC awards which is the like the New England Hip Hop awards, so I was buzzing locally a little already, that was the 1st step.
With production on the MM3 project that gives me a chance to display my work on a national platform. I have utilized the internet heavily to get my sound and name out there on a world wide level. I am registered to about 175 forums where I promote my music for the national platform as well as see what artists are buzzing, network with djs, promoters, freelance writers etc.
For a lot of artist/producers the internet is where it stops. I understand promotion needs to be done on all levels. I send out packages bi-weekly to mom and pop stores around the world, with flyers, stickers, posters, cds, from Canada, to NY, to jersey, to Philly to Cali, I have stores in every state and the list keeps building.
I have a strong media game as well, I have been featured in most the major local newspapers and I am now working on getting featured in all the national newspapers, magazines, websites etc. Sunday I knocked out 3 beats, 3 interviews and a little bit of song writing too.
It's a non stop grind for me, whether it's writing hooks, recording songs, doing interviews, making beats, networking to get more placements etc. On the night of the Mood Muzik 3 listening party I was up at 7am hit NY, and was out for like 3 hours hitting up the block the release party was one and surrounding area with stickers, flyers etc. Then back on the train putting flyers everywhere. It's about more then sitting in the basement making beats, you have to take it cause no one is gonna give it to you. So when an artist approaches me about getting tracks, they can be confident that they are getting some dope music but they are also working with a dude who is grinding hard to get his name out there so the music will have an even better chance of popping.
But yeah the whole set up is corporate/street grind, so don't be surprised if you see my flyers, stickers, cds, posters etc in your city soon.
YoRapper.com: What do you hope to accomplish in this industry? what is your goal?
WMS The Sultan: I want to make great music that is remembered decades from now that goes down in history. Basically make history when they mention my name I want them to be able to say there was only one and can ever only be one Sultan….
YoRapper.com: Any last words? Not that I'm going to kill you.
WMS The Sultan: Thanks again for the interview and opportunity, look out for "THE SULTAN MIXTAPE VOL 1 BY ANY MEANS NESSCARRY" dropping in 08. For more updates on THE SULTAN and to hear music visit www.wmsbeats.com, www.myspace.com/wmsthesultan.To buy beats contact THE SULTAN at [email protected] or call 1-800-915-HITS.