After the Macklemore/Kendrick Grammy debacle, I decided to look into how many Grammys other rappers have won to see if there was any link between winners. Here's what I found.
Rappers With 1 Grammy
First rappers with only one Grammy include artist such as: Drake, Killa Mike, Murphy Lee, Naughty By Nature, Coolio, Lil Kim, Method Man, Queen Latifah, Big Daddy Kane, Ice-T, 50 Cent, Lupe Fisaco, Sir Mix A Lot, Salt N Pepa, Eve, and Chamillionaire.
Now obviously Drake stands out on this list because (a) He's the biggest rapper right now and (b) he has songs where he expresses his desire to win Grammys. That's why it's funny to place Drake in the company of Murphy Lee. But when you think about it if you go back in time, all these artists that have won Grammys were considered great and groundbreaking at the time. Perhaps in 10 or 20 years we'll look back at Drake like we do Murphy Lee.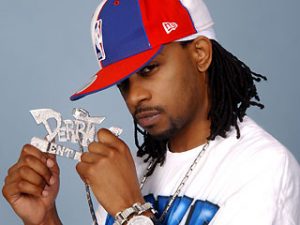 Before we go any further I'd like to say: Wait Murhpy Lee has a freaking Grammy and Kendrick Lamar doesn't!
Rappers With 2 Grammys
Rappers with 2 Grammys include perpetual lip licker LL Cool J, Beastie Boys, Common, and Arrested Development.
Rappers With 3 Grammys
Rappers with 3 Grammys include T.I., Diddy, Nelly, Ludacris, The Roots, and Mc Hammer.
Rappers With 4 Grammys
Rappers with 4 Grammys include Lil Wayne and now Macklemore.
Rappers With 5 Grammys
Rappers with 5 Grammys include Will Smith and Missy Elliot.
Rappers with 6 Grammys
Rappers with 6 Grammys include Dr. Dre, Outkast and The Black Eye Peas.
Now the Rappers With The Most Grammys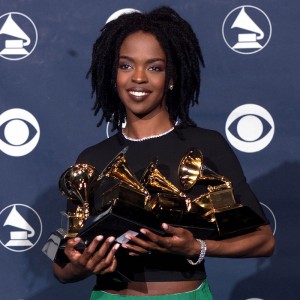 (4) Lauren Hill
Lauren Hill has the fourth most Grammys with 7 in which she earned 2 for her album with The Fuggees The Score and 5 for her debut album The Miseducation of Lauren Hill.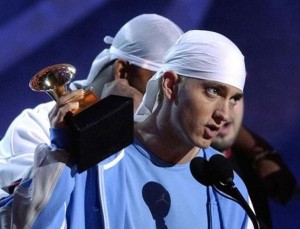 (3) Eminem
Eminem is third and has a total of 13 Grammys. He won best album in 2000 for The Slim Shady LP as well as for "My Name Is" for Best Rap Solo Performance. In 2001, he won best rap album again with The Marshall Mathers LP. In 2003, he won Best Rap Album again with The Eminem Show. In 2010, he suprisingly won best rap album for the fourth time for Relapse and again the following year for Recovery.
(2) Jay Z
Jay Z has the second most Grammys with 19. He recently won 2 Grammys at the 2014 Grammy Awards for "Holy Grail" for Best Rap/Sung Collaboration and "Suit & Tie" for Best Music Video.
Kanye West has the most amount of Grammys with 21. He's won Best Rap Album 4 times for The College Droput, Late Registration, Graduation and My Beautiful Dark Twisted Fantasy. Yeezus, was also nominated this year but lost out to Macklemore & Ryan Lewis' The Heist.
Which Rappers Have No Grammys?
Surprisingly, Biggie, Tupac, Nas, DMX, A Tribe Called Quest and Wu Tang have no Grammys. Snoop Dog is the most nominated rapper with no Grammys clocking in at 14 nominations followed by Nas with 13 nominations and Busta Rhymes with 11 nominations. So Kendrick Lamar shouldn't feel too bad that he hasn't won either as he is in good company.
Do the Grammys Favor White Rappers Over Black Rappers?
Lately I've been hearing this argument that the Grammys favor white rappers over black ones, because of some perceived anti-black agenda/Illiminati causes at work. Obviously, the fact is way more black people have won Grammys in hip hop categories than white people have. In the history of the Grammys, only The Beastie Boys, Eminem and Macklemore are the only white rappers to win rap related Grammys. So that argument is pretty much dead.