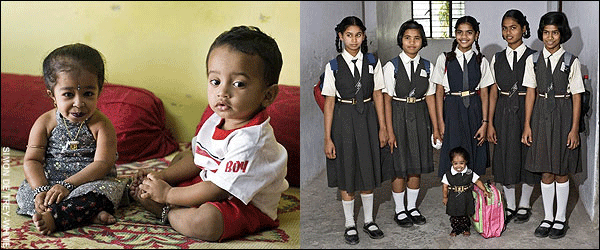 Jyoti Amge with a neighbour's 13-month old baby and with her school friends


Far from being unhappy about her tiny size, Jyoti says that she enjoys the celebrity status her height has brought her. "I am proud of being small. I love the attention I get," she told the Sunday Mirror.

"I'm just the same as other people. I eat like you, dream like you. I don't feel any different."

Jyoti attends her local high school, in Nagpur, India, where she studies alongside classmates of her own age, though she sits at a specially made miniature desk.

Her mother, Ranjana, 45, explained that her daughter's condition was not apparent until some time after her birth. "When Joyti was born she seemed quite normal. We came to know about her disorder when she was five," she said. "Jyoti is small, yet cute, and we love her very much."

Like any other teenager, she loves listening to pop music and watching DVDs and even hopes to become a Bollywood actress. She has recently recorded an album with her favourite Indian pop star, Mika Singh.
This is just crazy.