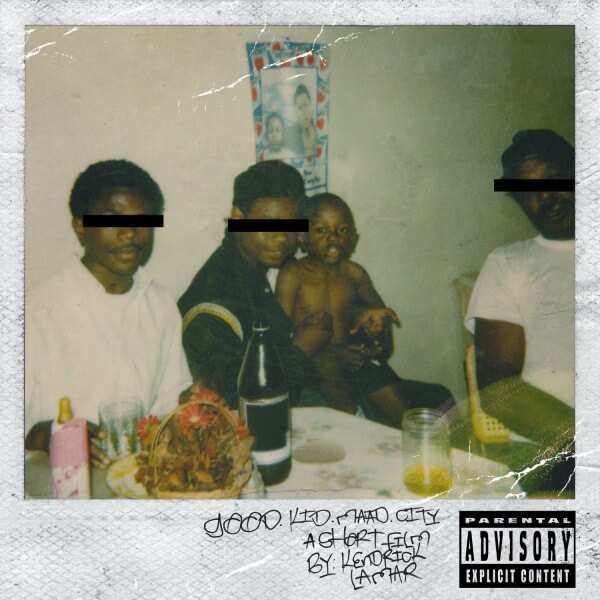 Review: 4/5
Best Songs: Backstreet Freestyle, The Art of Peer Pressure, m.A.A.d city, Swimming Pools,
I've had a love/hate relationship with Kendrick since he dropped his mixtape O.D. I loved his music because it had so many layers and I hated it because I just didn't have the time to enjoy uncovering all those layers. The way my brain has been programmed and I assume yours as well, is to be able to take in a rap song in one listen and immediately "get it". You can listen to a 2 Chainz song once and on the second go you'll pretty much be singing along, with this Kendrick album you have to really dedicate yourself to the album in order to truly enjoy it. It reminds me a lot of how we used to listen to albums in the 90s, particularly because of cassettes, it wasn't fun to switch tracks (imagine having to wait 30 seconds to fast forward to the next song [sidebar: Did I just explain how cassettes players worked?]). This type of album requires the same kind of dedication of the listener as Kendrick not only uses a very unorthodox flow, he also switches up voices, and switches up characters which all coalesce into a bunch of layers that play of each other. Admittedly my style of reviewing each song individually wont do this type of "story album" justice, but I will try to capture the essence of each song without giving away the whole story. Anyway, let's get into the breakdown foo!
1. Sherane a.k.a. Master Splinter's Daughter" (Produced by Tha Bizness)
This isn't the typical rapper intro that's full of conquests and punchlines but rather a story about Kendrick meeting a girl who isn't what she seems to be. The interlude that follows is probably the most entertaining thing about this.
2. Bitch, Don't Kill My Vibe (Produced by Sounwave)
Kendrick channels Erykah Badu and Andre 3000 at the same damn time here. This song definitely has radio potential, not only because Lady Gaga makes an uncredited appearance but because it has a Kanye "All Falls Down" feel about it.
3. Backseat Freestyle (Produced by Hit-Boy)
Yes finally some ignorant shit! It's either really cleaver or really soft of Kendrick to veil this song as if its his "first time rapping" (if you're following the story arc here).
4. The Art of Peer Pressure (Produced by Tabu)
This is basically the song version of the movie Boyz n tha Hood or any of those classic 90's 'hood movies. It's also executed perfectly.
5. Money Trees featuring Jay Rock (Produced by DJ Dahi)
Again Kendrick channels Andre 3000 and Eykah Badu for the chorus here. This song is way too slow and way too deep (or "pretend deep") for me to care about.
6. Poetic Justice featuring Drake (Produced by Scoop DeVille)
What's interesting about this Drake feature, aside from its obvious commercial appeal, is that Drake is currently the last great rapper to make it particularly because his style is so easy digestible. Even in this song, you immediately get what Drake's saying, Kendrick on the other hand is much more abstract. Now I've been pretty suspicious of rappers that hide weak flows and weak lyrics behind the veil of abstraction, just because I think it is much harder to present complex ideas simply. I remember when Ghostface was asked what his lyrics meant on a particular song and he said, "I don't know". That hurt him and Wu and all abstract rappers hereafter. I don't think Kendrick's falling into that trap, but he's walking dangerously close. When he starts rapping like "Ketchup baking soda, vanilla ice cream rover" we'll know the jig is up.
7. good kid (Produced by Pharrell)
Usually a Neptunes feature especially on songs with more weighty subject matter make me cringe, but Pharrell definitely respected the sound of the album.
8. m.A.A.d city (Produced by Sounwave, THC, Terrace Martin)
Kendrick said he didn't compromise in the making of this album, but Lex Luger trap bass lines is pretty much in step with what you'd hear Meek Mill rap over (and I'm not mad, I've been playing this 130 times). He does deliver a very underwhelming chorus, which is refreshing from the typical Rick Ross chants that you would expect on these kind of beats. Oh yeah he also raps as if he's possessed as the song nears completion.
9. Swimming Pools (Produced by T-Minus)
This song is actually really good when you're actually in a swimming pool full of liquor (metaphorically speaking of course).
10. Sing About Me, I'm Dying of Thirst (Produced by Like of Pac Div) (Produced by Skhye Hutch, Sounwave)
Kendrick adds himself to the short list of rappers that fade out their verse (Ghostface, Nas, Joe Budden) here. He also creates a new list of rappers that end their verse abruptly with a stray shot. I wish the second song "I'm Dying of Thirst" got its own song as it's a much better song and is also the climax.
11. Real featuring Anna Wise (Produced by Terrace Martin)
Kendrick might as well just get Erykah Badu to do the hook at this point. This is where the story pretty much ends as Kendrick finds out what really matters to him and what doesn't.
12. Compton featuring Dr. Dre (Produced by Just Blaze)
This is just the closing credits where Uncle Just Blaze embarreses himself singing into a vocoder and grandpa Dre claims he started gangster rap for the umpteenth time.
Last Word
This isn't a classic album. Nope sorry. It's not a classic album in the sense that we defined albums in the 90s and early 2000s. Because of piracy and just the fast paced way we live today there is no such thing as a classic anymore. No more classic music, no more classic movies and certainly no more classic books. When people describe something as "classic" they are usually using it for marketing purposes. This album is certainly the best album of the year as what was there to compete with this? Tyga's album? Kendrick definitely put work into this which is to be commended but it's not an entertaining album, it's more like those serious movies you can only watch once every ten years. What Kendrick has been able to do though is momentarily change what we think a great album is supposed to sound like and unlike J.Cole didn't come off as boring or unlike Macklemore overly preachy.
I do wonder if Kendrick is hiding mediocre songs with "fake deepness" around a bunch of great interludes to create a "story album" though. It is possible. Kendrick's unorthodox flow and underwhelming voice may just be him hiding his inability to stay within the pocket and come up with a more digestible approach. I think this album is similar to Jay-Z's American Gangster where even though it's commendable that there was a great story to be told, the songs did not have much repeat value as they were taxing on the listeners. Nonetheless, this album is a welcome change of pace, even if it's just for a week.
[polldaddy poll=6631674]