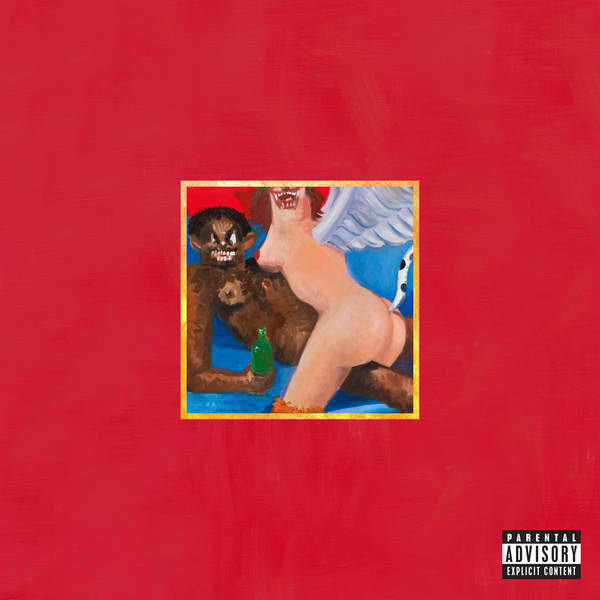 Review: 5/5
Best Songs: Dark Fantasy, Power, All of the Lights, Monster, So Appalled, Runaway, Hell of a Life, Blame Game, Lost In The World
Okay I first need to get this off my chest when I reviewed Graduation way back in 2007 I gave it a 4/5. In time, I came to regret that rating because really Graduation is a classic 5/5, so many different styles which are popular today came out of that album (i.e. the hashtag flow, European sound, tight pants, etc.). Now that's said, let's get to the definite best album of 2010 "My Beautiful Dark Twisted Fantasy". As always, check the break down foo!
1. Dark Fantasy (Produced by The Rza, Kanye West, No I.D.)
Honestly I'm still blown away by the hook or the "Can we get much higher" part. I mean which rapper thinks of this kind of stuff? Hell what kind of musician opens their album this grand and artful? At the same time, Yeezy keeps it "hip hop" employing Wu-Tang boss Rza and opening with "I fantasied about this in Chicago, mercy, mercy me that Murcielago".
Best line: Can we get much higher?
2. Gorgeous featuring Kid Cudi & Raekwon (Produced by Kanye West, No I.D., Mike Dean, Ken Lewis)
This is probably the weakest song on the album which is partly due to being beside such a great intro. I also can't take Kid Cudi serious after his admitted coke habit and the way he approaches music as if he doesn't care.
Best line: The same people that tried to black ball me, forgot about two things, my black balls.
3. Power (Produced by S1, Kanye West)
You've probably heard this song a million times by now and it's already reached "played out" status, so we shall move on. It is interesting that Yeezy claims he spent over 500 hours writing the verses to this I don't buy it, but I'm a hater.
4. All of the Lights featuring Rihanna, Fergie, Alicia Keys, The Dream, John Legend, Elton John, Kid Cudi (Produced by Kanye West; Jeff Bhasker)
First time I heard this beat I was blown away after hearing it a 100 times, I am still blown away. How do you come up with this beat in your head and then bring it to reality? I know it's a process but this is one of those times when the beat comes out exactly how you had it in your head. Now aside from the crazy production, Kanye kind of went overboard employing over 15 artists on one song. This is like a "We Are the World" record for father's that don't pay child support. Nonetheless, refreshing subject matter.
5. Monster featuring Jay-Z, Nicki Minaj, Rick Ross, Bon Iver (Produced by Kanye West, Mike Dean, Plain Pat, Jeff Bhasker)
If Nicki Minaj asked you to ménage à trois with Amber Rose, how would you feel? Well that's exactly what Nicki Minaj asks Kanye here and that's exactly how this track feels. Stadium status.
Best line: Head of the class and she just won a swallowship
6. So Appalled featuring Jay-Z, Pusha T, Prynce Cy Hi, Swizz Beatz & The RZA (Produced by Kanye West, No I.D.; Mike Dean, Jeff Bhasker)
Without a doubt the hardest Yeezy song ever. I defy you to play this in a good car stereo without feeling like punching the person next to you. As soon as Kanye starts berating rappers who make dance songs because of the current economic times, you know it's on. Let's not forget Jay-Z running on all 16 cylinders and The Rza going into 36 Chambers mode.
Best line: Housekeeping, god damn, one time let it be a bad bitch sweeping.
7. Devil in a New Dress featuring Rick Ross (Produced by Bink!, Mike Dean)
It's funny what one verse with Kanye can do for you. Ross went from being banned from YoRapper to back in my good books with this amazing verse he gifted to this Yeezy song.
Best line: God bless the man I put this ice over.
8. Runaway featuring Pusha-T (Produced by Kanye West, Emile, Jeff Bhasker, Mike Dean)
When Kanye performed this at the MTV Awards I think it got everybody interested in what Yeezy had up his sleeve, I know I was blown away. Who would have glamorized being a douchebag in a pop record? Brilliant.
Best line: I'm so gifted at finding what I hate the most.
9. Hell of a Life (Produced by Kanye West, Mike Caren; Mike Dean)
Originally I think Lil Wayne was supposed to do this hook which would have been awesome, but due to his incarceration Yeezy had to takeover. Either way I love the subject matter here as I am a recovering pr0n addict.
Best line: Said her price would go down if she ever fucked a black guy or do anal or do a gang bang, it's kinda crazy it's all considered the same thing.
10. Blame Game featuring John Legend (Produced by Kanye West, DJ Frank E, Mike Dean)
One of the only songs on the album that didn't get leaked and for most us our favorite song because of it's freshness, classic Yeezy signature sound and not to mention the original Chris Rock skit that follows. Though I didn't like that it sounded improvised, Chris Rock could have come up with something funnier had he put some thought into it.
Best line: Let's call out names, names, I hate you.
11. Lost In The World (Produced by Kanye West, Jeff Bhasker, Ken Lewis, Anthony Kilhoffer)
The only poppy record on the album and the next level of "Stronger" without being for MTV. Although Kanye hasn't said much rap wise, this album is more about what he doesn't say and who he doesn't pander to. It really feels like Kanye has found himself as a true artist that doesn't care about pandering to the media particularly MTV, music critics and even the hip hop crowd. If anything he's pandering to true art. Even the way he raps on here, isn't the usual confrontational rap, it's more like a poem.
Last Word
Production, production, production. After five albums Kanye isn't no where near the best technical rapper but he damn sure is one of the most creative, genre bending, producer-rappers of all time. I really feel sorry for rappers like Lloyd Banks and Fabolous who have no production skills and pretty much just smoke weed and write the first rap that comes to their head over a "hot synth beat". Those kind of rappers will never win in this climate. As cliche and gay as this is to say, Kanye has consistently pushed the creative envelope and only time will tell all the styles (and rappers: word to Drake) that will be fathered as a result of this album.