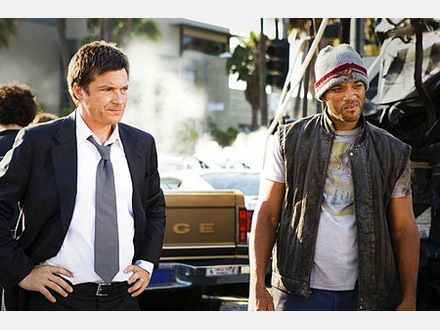 Review: 3.5 out of 5

Best Scene: A man's head goes up another man's ass.
Will Smith returns to the box office with another July 4th blockbuster in which he plays a superhero with more than your typical superhero vices such as alcoholism, assholeness, and homelessness. The movie is pretty much about how Will copes with his super powers and eventually with the help of a public relations consultant played by Jason Bateman is able to present a more adorning figure to the public -albeit a few twist and turns along the way.
In the interest of full disclosure, I have to admit I am a huge Will Smith fan and actually believe the man can't make a bad movie -not counting Wild Wild West. Hancock allows Will to bridge his comedic sensibilities as seen in Hitch and Bad Boys with his sci-fi persona as seen in I Am Legend and I, Robot.
Many reviews criticize the movie for its unexpected twist during the last half. I admit the twist was a little unexpected and at first found it hard to believe but the movie does make a nice recovery in explaining everything. The only problem I found with the movie is that it needed a more spectacular ending such as a big battle between Hancock and an equivalent foe. But I do get the feeling their will be a few more installments of Hancock on the way for the movie to follow the traditional superhero format -but Hancock's first has to prove itself at the box office. So having said that YoRapper says, Go check out Hancock!