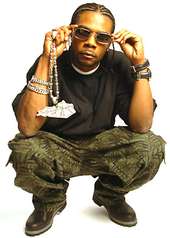 Stephen "Static Major" Garret the producer who has worked with Aaliyah, Ginuwine, Destiny's Child, Brandy and on Lil Wayne's new song "Lollipop" had passed away at the age of 34 on February 25, 2008. New details have emerged that he died due to the hospital's negligence as he was admitted for some strange illness. Here is the blog from his brother-in-laws myspace page (WTF) that further explains things;
On the day of February 25th, Static was in Atlanta, and began to feel sick. His desire was to go home (Louisville, Kentucky) to be around family and seek medical attention. He had a virus. I, still, don't know what the name of this virus was, but it was not a life-threatening issue, I do know. This particular virus affects the muscles, throat (quivering of the voice), as well as, causes drooping of the eye. He had no history of illnesses or anything of that nature.

When he admitted himself to Baptist Hospital East in Louisville, Kentucky, the doctors presented him with medicine that would treat the virus. The treatment was taking the medicine through a shunt, in the neck, which treats more severe cases of this virus. Quicker than taking pills for days. Though, he didn't want the shunt, the doctors insisted that he treat it this way. The treatment was a form of dialysis to filter the blood of the virus.

He called his mom and told her, "Mama, something doesn't feel right. It hurts." When the doctor's were made aware that the shunt was hurting him, they took it out……it was over! When taking the shunt out, they took it out in the wrong manner that resulted in damaging the artery. He bled to death! They killed my brother, his wife's husband, his kids' father, his mom's son, and the world's musical inspiration.
Sounds scary. Rest in peace Static Major.