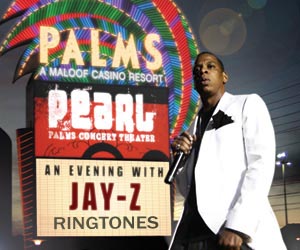 All the disgruntled Def Jam rappers are getting a nice Christmas present today as Mr. Carter aka Jay-Z has announced he will not be renewing his presidential duties at Def Jam in 2008. Hov said,
I've been incredibly fortunate to have served as President of such a culturally-defining label as Def Jam over the last three years. During that time, I've had the pleasure of working with many of the world's most dynamic artists and many of the most dedicated and talented executives in the music business today, including Antonio "L.A." Reid. But now it's time for me to take on new challenges. I am pleased to have had the opportunity to build upon the Def Jam legacy, helping to move the company into a new era of artistic success.
Even though Jay-Z is leaving Def Jam's office space, he will still be a recording artist under his label Rocafella as he still has one more album under his contract. He has said that if he feels "inspired" in the coming year he will drop his last album fulfilling his contractual agreements. So this may be it, the last year of Jay-Z. This is actually when he retires from the music business. He has said that he would still record but "not for the mainstream" and "not for sales".
It looks like 2008 will be a changing of the guard as older rappers like LL Cool J will also be completing their last album as per their contract. This should allow the younger artists on Def Jam more resources to pave the next few years of hip hop history. Too bad Joe Budden didn't stay around a little longer.