Where to Buy Fresh Gear?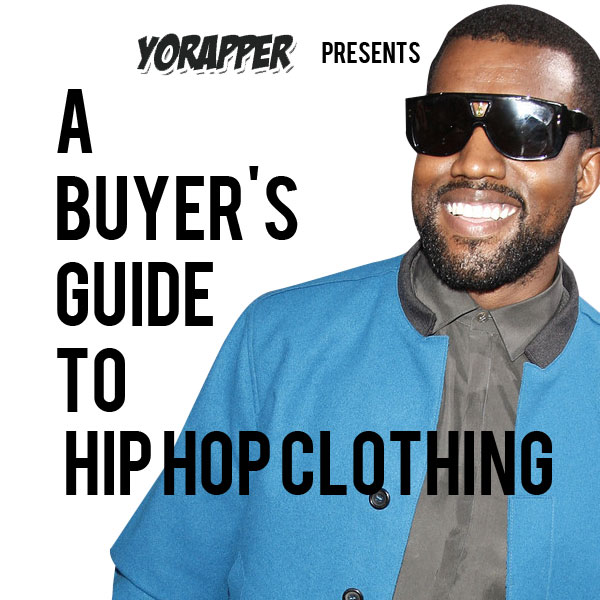 Here you will find the best websites to get hip hop clothing as well as coupons and promotional codes. These sites not only serve customers from the US and Canada but also international customers as well.
Hip Hop/Urban Clothing Online Stores
(1) YoRapper
Surprise. Surprise.  We've quickly grown into one of the biggest hip hop clothing stores online.  We offer free fast shipping within the U.S.
(2) Jimmy Jazz
One of the best sites that sell all brands of hip hop clothing. They offer over 200 brands to choose from and are always offering special discounts.
When you checkout here's some Jimmy Jazz promo codes to help save you more.
(3) Fresh Clothes King
Another one of my favorites is Fresh Clothes King. They have a huge selection of LRG, Coogi, Ecko, Akademiks, Rocawear and Sean John. They also ship internationally for as low as $4.99.
How to Dress like an Urban Gentlemen?
Need to step your clothing game up? Want to wear nice stuff but still keep it hip hop? Going for that "grown and sexy" look? The first thing you have to do is wear your size. Don't wear super tight stuff, just rock jeans and shirts that fit. Easy right? If your feeling extra fly, go get your jeans hemmed so that you are not stepping all over them.
Secondly, if you want to dress like Lil Wayne or Yeezy, look to great designers. Here is a list of the more trendy designers with an urban flare and where you can purchase their clothing online. Also for the ladies, most of these designers offer a women's line as well so no need to feel left out.
Here are a few of my favorite urban/skate brands and where you can get them for cheap.
Brand

Description

More Info.

True Religion

You've probably heard everyone from 

Fabolous

 to Lil Wayne drop a rhyme about their True Religion jeans. Their textures, designs and materials used are of high quality and give off a clean retro look. They are pricey, but If you are in the market for a really good pair of designer jeans, you may want to check out True Religion.

Supreme

My personal favorite line is Supreme because they mix the mature look with the urban look really well which is great for people in their twenties. Their jackets and jeans have some especially interesting designs, not to mention some carefully hidden pockets. Their hats such as the leopard print brim, worn by Tyler The Creator and their winter jackets in partnership with Canada Goose, have been worn by Drake.

Evisu

Evisu is a Japanese designer which entered into the hip hop lexicon when Jay-Z rhymed "These ain't Diesel n*gga, these is a Evisu". As opposed to True Religion, Evisu tends to go for slighter darker colors with their jeans. Utilizing crisp hard denims for long life durability, Evisu jeans are another designer you may want to check out.

Crooks & Castles

Another one of my personal faves is Crooks & Castles because like Artful Dodger they mix the upscale look with the streets. Not only that but they also are fairly cheap and provide the most fresh for your buck. An interesting thing about Crooks & Castles is that they openly admit to stealing designs from high priced designers such as Gucci, Versace and Louis Vuitton but give it a "unique twist" (to avoid legal action). If you are looking for some reasonably priced shirts, jeans are scarves check out Crooks & Castles.

RockSmith

Merges an urban sensibilty with a rock edge as most of their designs are 80's or retro inspired. I don't own any RockSmith gear yet, but think their designs are interesting.

LRG

Simply put, clothing for the backpacker at heart or maybe just the adult hip hop head.
Here are a few of the top websites to get hip hop related fashions directly from.
Store

Review

More Info.

New Era Caps

What better place to get the freshest fitted caps than by going to the New Era store? That's as long as they update their site regularly (and lucky for us cap connoisseurs they do). They also offer same day shipping.

Rocawear

The Rocwear website is easy to use, and the prices are very competitive with retail stores. The men's section boast of 20% off new arrivals, which is pretty damn good, considering the new stuff usually goes on sale at the end of the season. They are also selling Jay-Z's custom tee's as well.

Phat Farm

Phatfarm's site is currently offering 25% of everything on their site, which includes clothing and accessories in the Men's line, Big & Tall, Youth and New & Hot lines. Check out

Phatfarm.com

to get the promo code to save 25% on your purchase.

Sean John

Diddy has built his clothing line into a reputable brand not only in the hip hop world but throughout the fashion industry because he actually makes nice looking pieces. Let's also not forget his cologne lines smell amazing.

Enyce

Enyce uses a customer friendly clean design. They are currently offering 20% off on all denim shorts. Also all accessories are 15% off.

AppleBottoms

"She had them applebottom jeans.." I can't leave my ladies out. Applebottoms has propelled to the front of Women's fashion since the T-Pain line. The site features an extensive collection of Women's wear including plus sizes, girls, shoes and accessories. They are also offering 25% off on all denim.